GIA BINH INDUSTRIAL PARK – BAC NINH PROVINCE
INDUSTRIAL PARK SCALE
Total Area: 306.9ha
Leasing term: From 2021 to 2071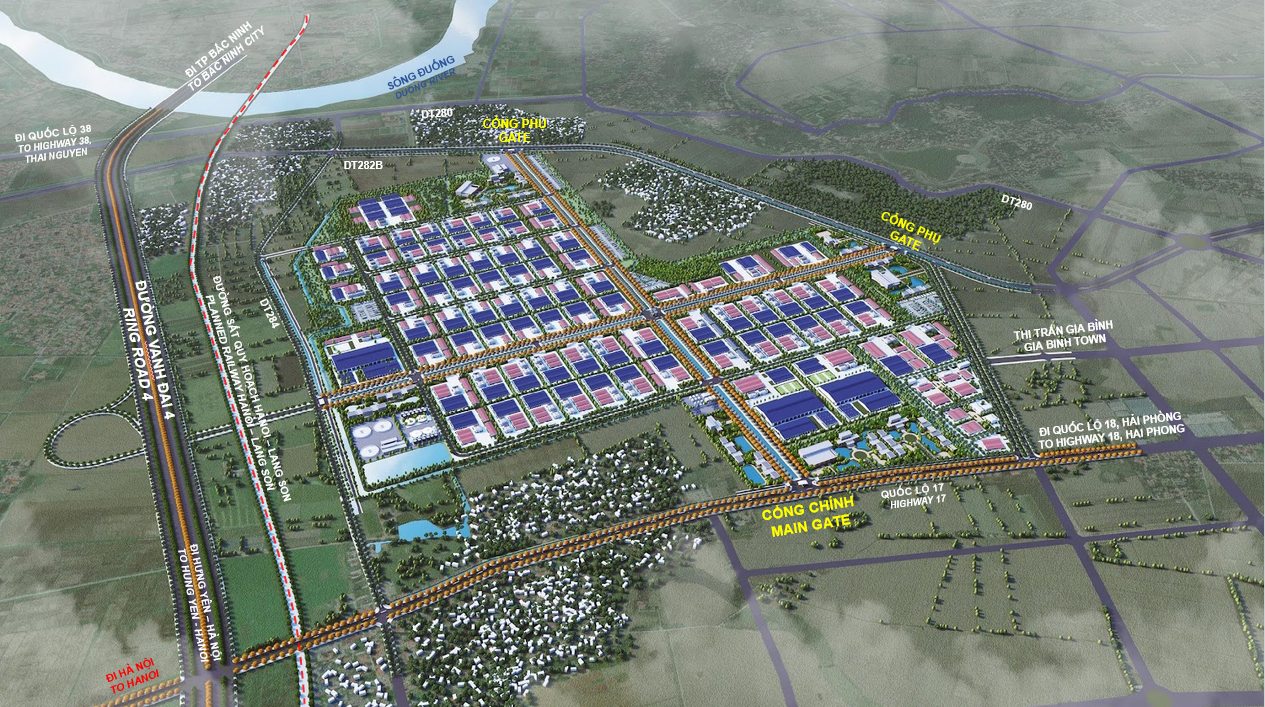 Gia Binh Industrial Park is located on Highway No.17 in Gia Binh District, Bac Ninh City. The Industrial Park has an extremely convenient traffic location when it is only 20km from the center of Bac Ninh City, 41km from Hanoi Capital, 50km from Noi Bai Airport, 85km from Hai Phong Port.
In 2021, Capella Land will focus on speeding up site clearance and compensation, building standard synchronous infrastructure to serve production and business enterprises in the Industrial Park.
ADVANTAGES OF INDUSTRIAL PARK
Located on Highway No.17 that it is a very convenient connection to the city center, seaport, airport;
Competitive infrastructure leasing costs compared to the area;
Corporate income tax incentives;
Flexible subleasing area to meet investors' needs;
Located in an area with a high-quality workforce, with 69% of the trained workforce (5th in the country), having quick access to modern technologies and machines as well as advanced management level to meet the requirements of investors.
ATTRACTED INVESTMENT BUSINESS
Gia Binh Industrial Park is a Multi-Industrial Park. EIA of the Industrial Park has been aprroved with the following business activities:
Manufacture of electronic components;
Garment/Textile;
Processing industry (Processing food, Feed mill, Poultry, Aquafeed products);
Construction Materials;
High technology;
Manufacture of medicine and pharmaceutical;
Manufacture of plastic products;
Other supporting industries.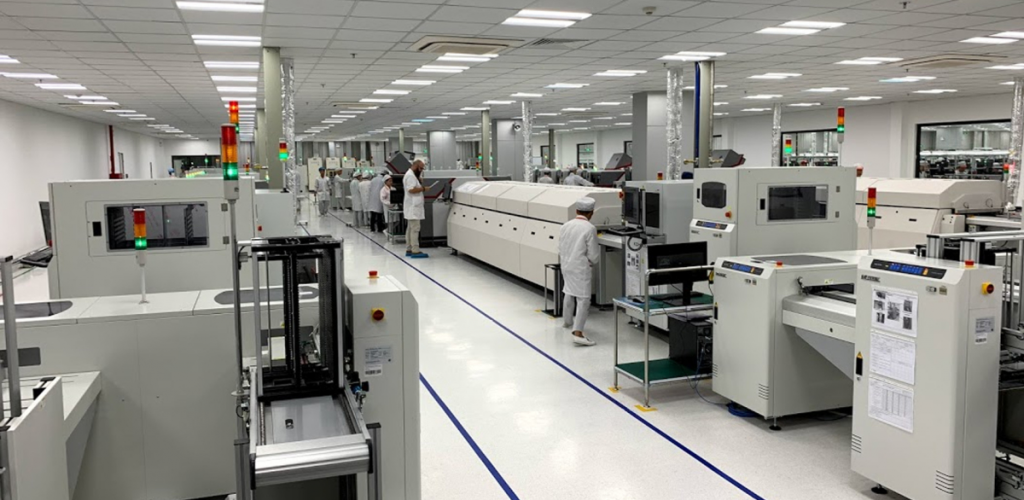 LABOR SOURCE
With a total population of 1.5 million people in Bac Ninh Province, of which more than 120,000 people in Gia Binh District and the next site Hai Duong Province, about 1.9 million people. Today, Gia Binh Industrial Park is located in the easiest area to recruit workers in Bac Ninh.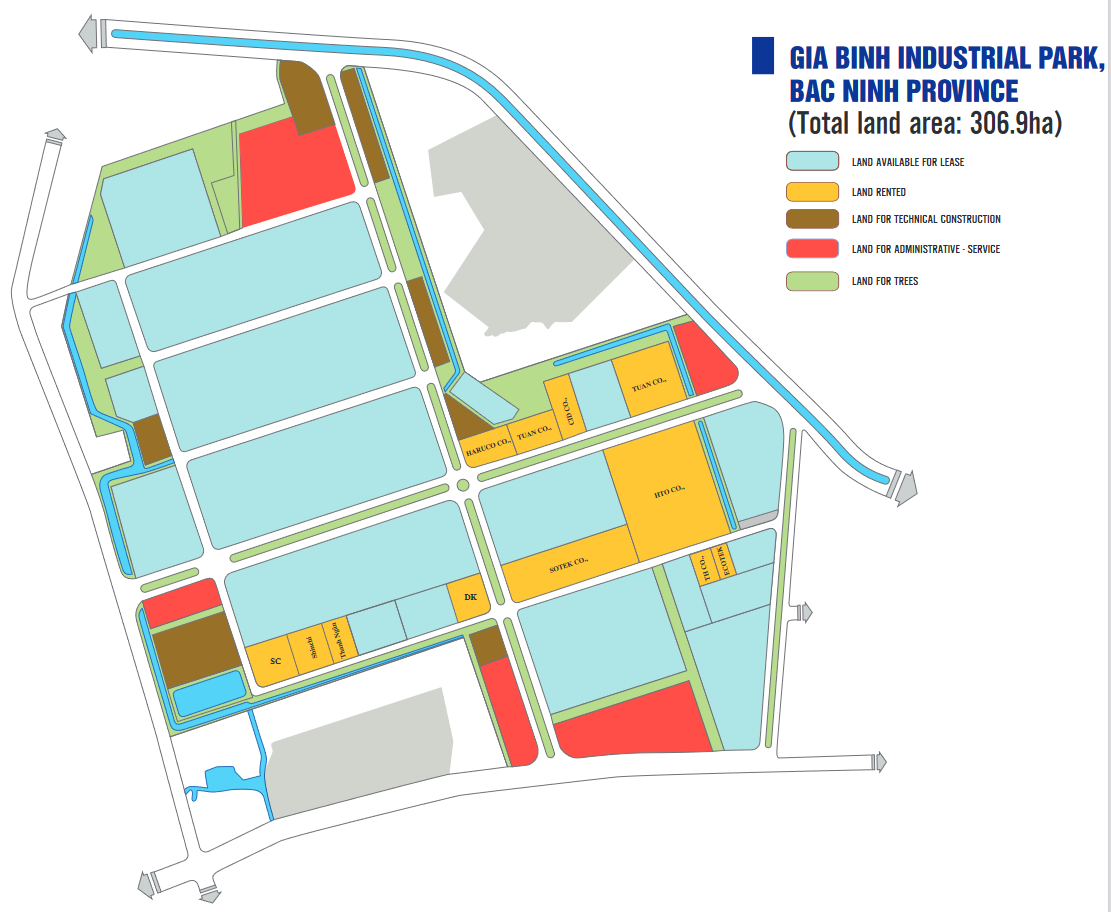 Gia Binh Industrial Park is located in Gia Binh District, Bac Ninh Province. The Industrial Park is located on Highway No.17, connecting with National Highway No.18 connecting Bac Ninh Province to Hai Phong Port and Cai Lan – Quang Ninh Port, next to Ring Road No.4 connecting Vinh Phuc – Hanoi – Hung Yen – North. Ninh – Bac Giang.
Gia Binh Industrial Park is pushing the completion of the investment in a synchronous infrastructure system to serve businesses in production and business activities.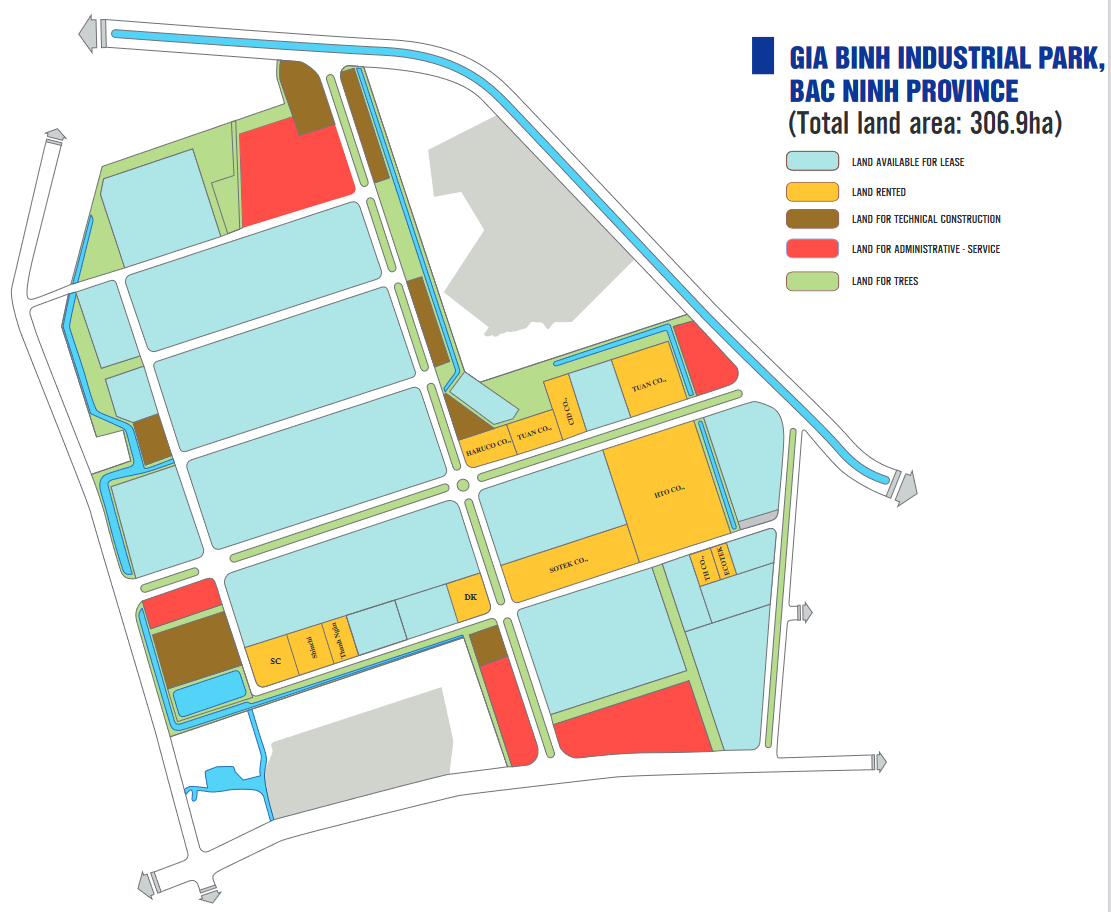 INFRASTRUCTURE SYSTEM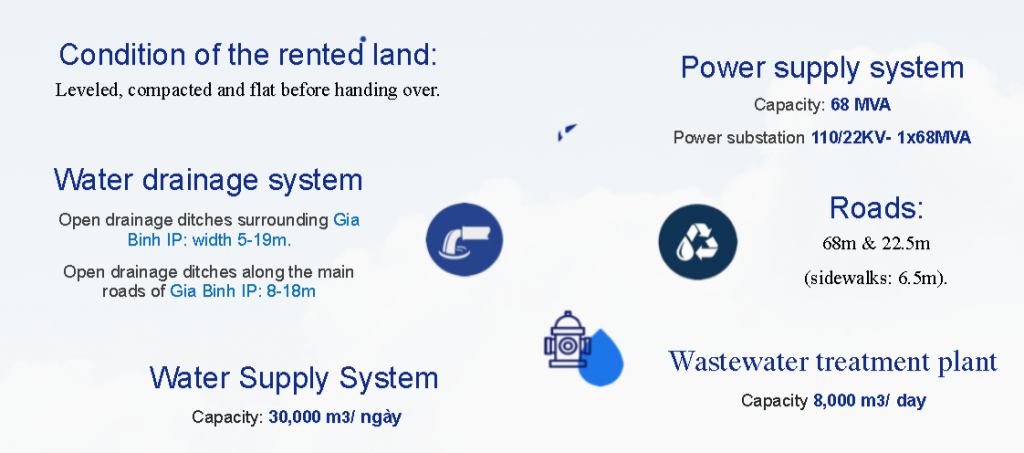 SERVICE URBAN AREA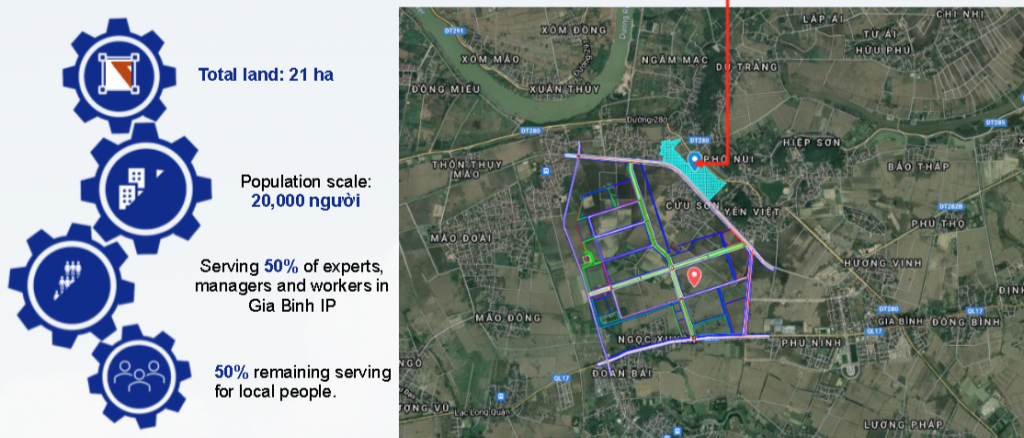 SERVICE SYSTEMS
INVESTMENT INCENTIVE
The customers invest in Gia Binh Industrial Park will be get 2 years examption of Corporate Income Tax and deduction 50% of Corporate Income Tax for next 4 years.
INVESTMENT SUPPORT 
The Owner of Gia Binh Industrial Park provide support service of initial investment procedures for investors such as: apply for ERC and IRC; Loan from Bank.