SCALE OF THE INDUSTRIAL PARK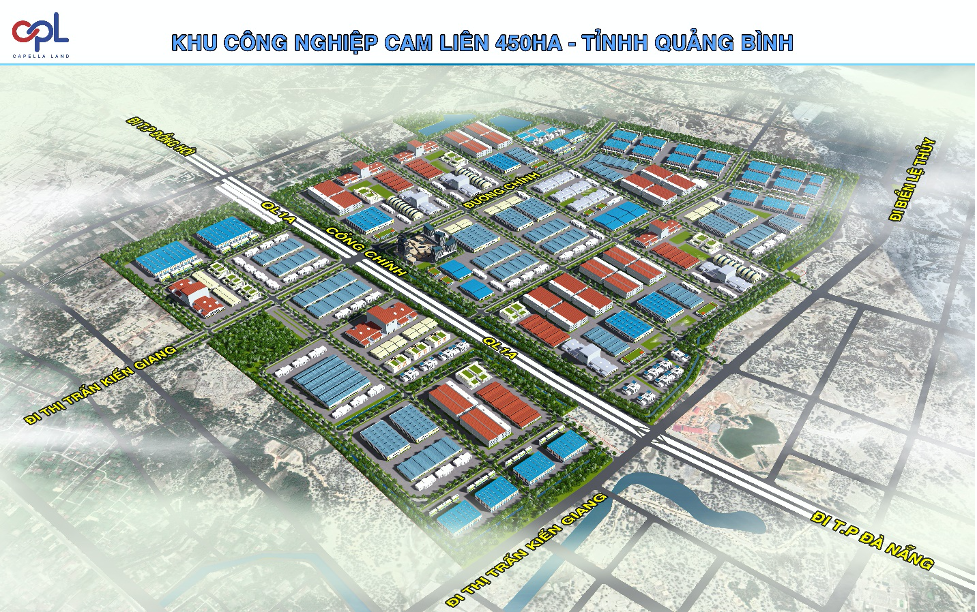 Cam Lien Industrial Park is located in Quang Binh Province with a total land area of 450ha, It belongs to the administrative boundaries of 3 communes: Cam Thuy, Thanh Thuy, and Ngu Thuy Bac in Le Thuy District. 
In 2022, Capella Land will focus on completing all necessary legal procedures to conduct land clearance and build the synchronous infrastructure to meet the production and business needs of enterprises in the IP.
ADVANTAGES OF INDUSTRIAL PARK
–  Locate next to National Highway No. 1A which is convenient for transportation: The distance from the IP to Dong Hoi City (center of Quang Binh Province) is 38 km and to Dong Hoi Airport is 40 km. Besides, through this route, vehicles can easily move to Hon La Seaport (Quang Binh Province), Vung Ang Seaport (Ha Tinh Province), Chan May (Thua Thien Hue Province) and Tien Sa Seaport (Da Nang City).

– The IP is located in an area with high terrain (not affected by floods)

– Abundant human resource with the population of Quang Binh is over 900,000 (60% of people in Quang Binh are of working age) and neighboring provinces is over 2,000,000 people. Moreover, the labor cost is still low (Minimum Salary Zone 3).

– Corporate Income Tax Incentives.

 

– Capella Land's team has a wealth of experience and a deep understanding of investment procedures. Hence, we are always ready to support enterprises in applying for investment certificates and other related legal procedures.
ATTRACTED INDUSTRIES
Cam Lien Industrial Park is a multi-industry industrial park and wants to attract many fields, especially:
– Electronic & Supporting Industry
– Materials Industry
– Mechanical Industry
– Clothing Industry
– Processing Industry (food processing, animal feed, seafood processing, sand processing)
– Pharmaceutical Industry
– Product Manufacturing from plastic, metal, paper
– Other light Industry
LABOR SOURCE
Cam Lien Industrial Park is located in the area with a Minimum Salary Zone 3 that equivalent to 3,640,000 VND/month/person. Besides, the population of Quang Binh is 970,000 people and the Le Thuy District is around 140,000 people. The labor resource accounted for 60% of the total population. The trained workforce accounted for 40% with the ability to quickly acquire modern technology as well as the advanced management level that meets the requirements of investors.
The Industrial Park has an ideal location and that synchronizes with the National Highway 1A and North-South railway.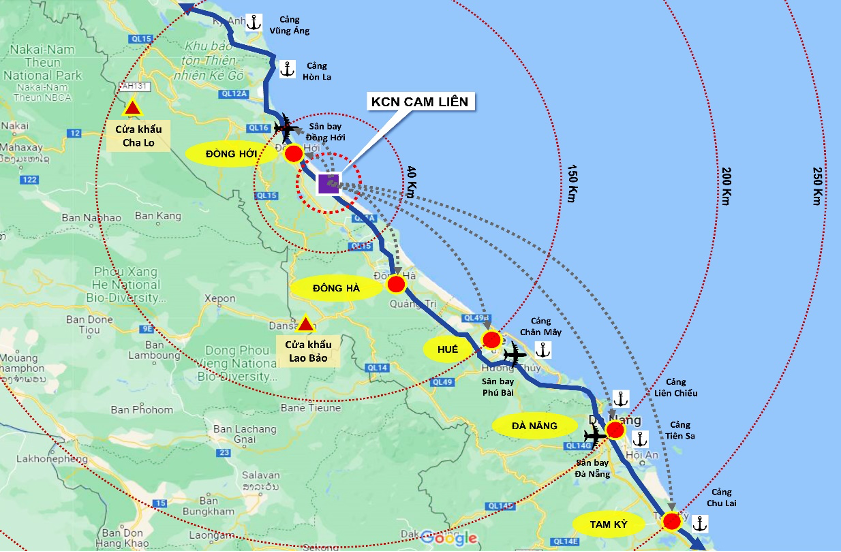 Ideal location:
Far from Dong Hoi City: 38km
Far from Dong Hoi Airport: 40km
Far from Hon La Seaport, Quang Binh Province: 100km
Far from Vung Ang deep-water Seaport, Ha Tinh Province: 125km
Far from Phu Bai Airport, Hue: 150km
Far from Da Nang; 200km
Far from the Chaolo Vietnam – Laos International Border Gate: 189km
Adjacent Utilities:
Far from the center of Kien Giang, Le Thuy District: 2km
Far from supermarkets and banks: 4km
Far from local administration center: 4km
Far from FLC Quang Binh Golf Course: 10km
In Cam Lien IP, the land will be leveled before handing and over to investors to reach the specified height and tightness according to the standard. Moreover, the infrastructure system will also be promoted synchronously to serve investors in construction and business.
TRANSPORTATION SYSTEM
Cam Lien IP has a modern transportation infrastructure that synchronizes with the National Highway 1A and North-South railway. The width of the main road is 36m and the branch routes are 29m, 23m, 15m.
ELECTRICITY SYSTEM
A 110/22kV power substation is installed in Cam Lien IP with the capacity of 1x68MVA that fully meets the electricity demand of factories in the IP.
WATER SUPPLY SYSTEM
The freshwater supply system is invested underground along the roads. Water is supplied from a water extraction plant with a total capacity of 15,000m3/day.
WATER DRAINAGE SYSTEM
The industrial park arranges two separate rainwater and wastewater drainage systems. The water drainage system is installed along the roads in the IP.
WASTEWATER TREATMENT PLANT
The capacity of the wastewater treatment plant is 11.000m3 day and night, ensuring the treatment reaches level A parameters according to QCVN 40-2011 issued by the Ministry of Natural Resources and Environment, specified environment. 
INVESTMENT INCENTIVE
Investors who invest in Cam Lien Industrial Park will get 2 years exemption of Corporate Income Tax and a deduction of 50% for the next 4 years.
INVESTMENT SUPPORT 
Capella Land is always ready to support investors with the initial investment procedures such as Register for an investment certificate, company stamp, tax code, and support to connect with the banks for loans right after signing the infrastructure and land lease contract.